PURCHASING POWER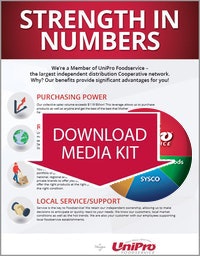 Our collective sales volume exceeds $142 billion! This leverage allows us to purchase products as well as anyone and get the best of the best that Mother Nature provides each year. The savings are passed on to you.
RESOURCES
UniPro partners worldwide with over 500 manufacturers. We provide products, services, and solutions beyond Food Safety, Service Providers, Technology, Great Menus Start Here or Operator's Edge
UNIQUE PRODUCTS
You need it? We have it …or can get it. Our portfolio of products includes renowned national, regional and a variety of exclusive private brands to offer you so many options. We offer the right products at the right price and in the right condition.
LOCAL SERVICE/SUPPORT
Service is the key to Foodservice! We retain our independent ownership, allowing us to make decisions to anticipate or quickly react to your needs. We know our customers, local market conditions as well as the hot trends. We are also your customer with our employees supporting local foodservice establishments.